About us
Azoty Tarnów is one of the largest companies of the chemical sector in Poland, belonging to the Great Chemical Synthesis group. The basic activity of Azoty Tarnów is the production and sales of engineering plastics, semi-finished products for their fabrication, mineral fertilizers and chemicals.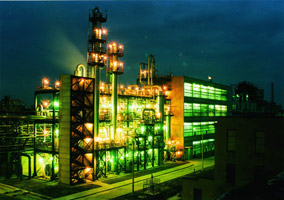 Azoty Tarnów is one of the oldest companies of the chemical sector in Poland and one of the largest industrial complexes in the Małopolska Region. The company was created between the 1920s and 1930s on the initiative of Ignacy Mościcki, the President of the Republic of Poland, and constituted one of the biggest Polish economic investments in the interwar period. For over 80 years it has constantly been building a strong position on both Polish and international chemical markets. Thanks to a long experience, an expanded distribution network and high quality of products on offer, which are recognizable on many markets, Azoty Tarnów sells their products to 41 countries worldwide.

Azoty Tarnów was one of the first Polish companies to adopt guidelines of the United Nations Framework Convention on Climate Change (1997, the so-called Kyoto Protocol) through a Polish–Japanese project of Joint Implementation of greenhouse gas emission reductions (Emission Reduction Units, ERU). Moreover, the Capital Group owns in-house state-of-the-art technologies serving environmental protection and elimination of chemical threats.

Since June 2008 Azoty Tarnów has been quoted on the Warsaw Stock Exchange.

We are a socially responsible company – the biggest employer in the region, creator and patron of cultural, sport and scientific events. Together with ten subsidiaries we form a Capital Group with huge potential both in production and services. We are open for building durable alliances with big sector partners and cooperating with SMEs.

You are cordially welcome to cooperate with us.